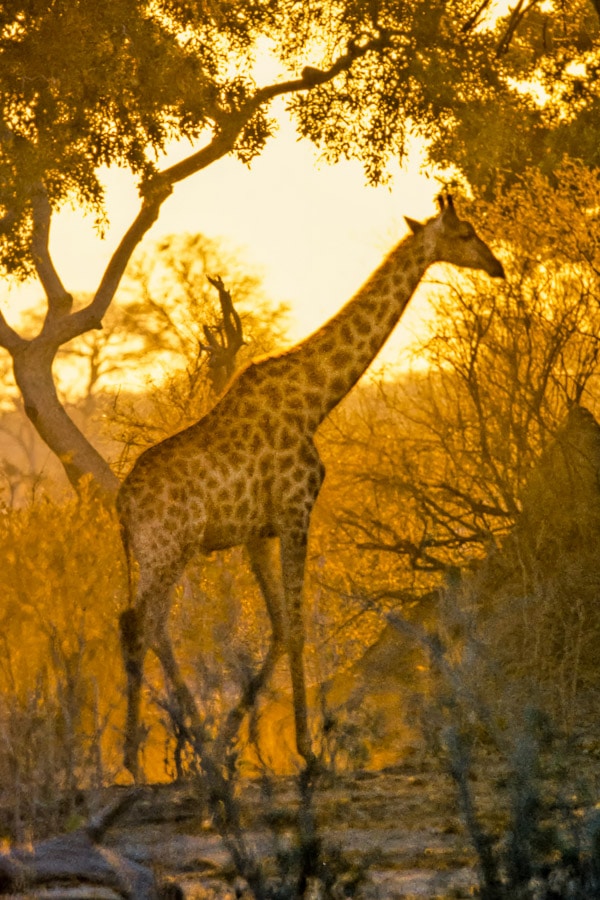 Order a print of this photo
This giraffe photo was taken at Chobe National Park in Botswana. Chobe is northeast from Moremi Game Reserve so we drove there, most of the way by dirt road.
I like this shot because I took it into the sun near sundown. The sky is blown out in order to capture some detail in the giraffe strolling though the forest. The whole effect is to render the image in shades of red and yellow. The only greens and blues are in the foreground brush. I also like the parallel lines of the tree branch, giraffe's neck and the side of the termite mound.
Again, this is from a scan of a slide. Were I shooting this today I'd be very tempted to capture it in HDR and then use Photoshop to blend the layers but I don't know I'd like the result any more than this.
Here's a link if you want to check out some fun facts about giraffes – for example the jugular vein has a series of one-way valves to stop blood rushing to the animal's head and causing blackouts when they drink water.