So as we come to the end of the year, Scott Kelby posted his annual holiday gear guide so I thought I'd present mine. Like Scott, all of the items here are items I personally have used this year. Unlike Scott's list, each one of these items costs less than $100.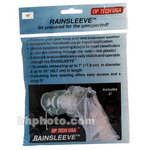 So I've had my Rainsleeve for a couple of years now and it's performed sterling work for me. Now I don't often venture out in the rain to take photos but the Op/Tech USA Rainsleeve is light and compact and easy to tuck into the corner of your camera bag. The clear polythene allows you to see and adjust all the camera controls. There's a hole for the eyepiece and a drawstring to snug the opening around the lens. The Rainsleeve allows you to hand hold your camera or mount it on a tripod, so it's excellent for taking out on rainy evenings if you want to capture reflections of city lights in rain-slicked streets. There is another variation that accommodates a camera mounted flash for less than a dollar more (OP/TECH¤USA RAINSLEEVE- FLASH (Pack of 2)).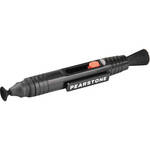 Another little tool that tucks away in the camera bag. The brush is retractable inside the barrel of the pen. My wish would be they'd add a cap but as they don't, I use a resealable snack bag to ensure my Lenspen stays clean inside my gear bag. At the other end of the pen is a special non-liquid cleaning element. This one does have a cap to ensure it doesn't get damaged in storage. I've had more success cleaning the objectives of my lenses with the Lenspen than I have with the traditional lens cloth or lens tissues.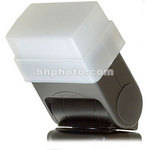 So anyone that's ever followed Joe McNally will know he swears by diffusing the light from his small flashes to soften the output and produce a light output that has more shaping characteristics than the harsh light directly from the flash. The particular Sto-Fen referenced is for the Canon Speedlite 580EX II (B&H) but also fits the original 580 EX. Don't have one of these units? Sto-Fen make similar products that fit all the common flash units from most of the manufacturers. This diffuser alone can go a long way to eliminating harsh shadows. Incidentally, B&H currently (date of posting) have a $50 instant savings on the 580 EXII bringing it down to $424!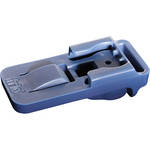 I picked up my first Frio when the FlashBus Tour 2011 came rolling through Houston with two masters of small flash, Joe McNally and David Hobby. Actually, what I got was an image of one since the physical units hadn't arrived in time to stuff the goody bags. Having swapped by cardboard one for a real one I hastened to my local camera store, Houston Camera Exchange, to buy one for each of my speedlites. If you're using multiple speedlites then these coldshoes are very easy and convenient to use if you want to mount your slave speedlites on a light stand. In the under side of the Frio is a standard 1/4 inch socket so you can screw the stand onto the top of a light stand or into an umbrella bracket if you want to angle the light. The speedlite just clips into the Frio. Of course, the Frio can be used with a flash from any manufacturer, not just Canon flashes. I find them to be way more convenient and easy to use than the 'foot' that Canon supplies with their speedlites when mounting my off camera lights on some form of stand or bracket.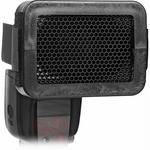 So if the Sto-Fen softens and scatters the light, how do you control the direction and spread of light? The answer is to use a grid over the flash. There are many hacks for this, including using drinking straws all cut to about 3/4 ~ 1 inch and glued or bound together. But, David Honl has done the work for you and put a sturdy frame around the grid to prevent it getting damaged in your gear bag. The grids come in 1/8 inch and 1/4 inch mesh sizes, the 1/8 inch grid providing the most tightly controlled light. If, like me, you've already applied Velcro to your speedlite then you simply attach the grid over the face of your flash with the Velcro straps provided. If you haven't stuck Velcro all over your speedlites or are disinclined to do so (like many) then you can buy a Honl Photo Speed Strap for Speed System (B&H) for $9.95.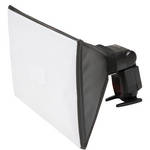 The first flash diffusion device I ever bought, way back when in my film days, was a LumiQuest Mini Softbox. Over the years LumiQuest have expanded their range and their softboxes for small flash have gotten bigger. The largest in the range today in the LTp. The LumiQuest LTp is roughtly twice the size of their SoftBox III and 40 times the size of the flash itself with over 120 sq. in. of surface area. Designed specifically for off-camera use, the LumiQuest LTp folds flat for easy portability in a laptop pocket of your camera bag. Like the other LumiQuest products, the LTp is attached using Velcro fasteners (and this is why my speedlites all have Velcro stuck on them). As the lighting gurus will tell you, the larger a light source appears to the subject, the softer the light and more wrap you will achieve. With an assistant or light stand, you can get the LTp very close to your subject and get a nice soft wrap of light, great for location portraits where you can get close to the subject. And, just as with the Honl Speed Strap, you can buy the LumiQuest UltraStrap (B&H) for $7.95 if you don't want to stick Velcro on your flash. As with the Honl Speed Strap, you simply wrap the Lumiquest Ultrastrap around the flash head when you need it. Of course, if you buy a Honl strap your don't need the LumiQuest one and vice versa since they are both simple Velcro straps.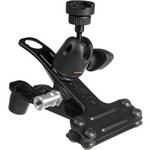 What can I say about the Justin Clamp other than one is not enough! I don't recall where I first learned of these things but most likely from Joe McNally's book, The Moment if Clicks
(Amazon, $34.64 or $19.80 for Kindle). Joe writes an interesting vignette on how this clamp came into being and got it's name towards the end of the book. I find these to be extremely versatile for positioning off-camera flash units in weird places or mounting multiple speedlites in a shoot-through umbrella. On some of mine I've replaced the cold shoe that comes with the device for a Frio as I find the Frio's more user friendly. To do this I had to go to my local hardware store and get some 3/4 inch long 1/4 inch diameter threaded bar. I unscrewed the cold shoe that came with the clamp, screwed in the threaded bar and then screwed on the Frio.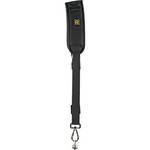 So I finally switched from the standard Canon strap earlier this year and I'm left wondering why I didn't do this a long time ago. Although not the only such strap on the market, the BlackRapid RS-7 is the strap I personally use. The difference between the RS-7 and RS-4 is the slight curve of the RS-7 that makes it a little more comfortable to wear. Instead of linking through the camera strap slots on the top sides of the camera, the BlackRapid RS-7 has a connector that screws into the tripod mount under the camera. This connector has a neoprene washer that, if you wet it before screwing it in, makes a really secure fit. To date, mine has not come undone unintentionally. With the BlackRapid RS-7, the camera hangs comfortably at your hip or behind your back yet the camera quickly glides up into shooting position when you need it. I just find it sits way more comfortably and I can move much more easily with the camera strap diagonally across my chest rather than around my neck or hanging off one shoulder. The only (mild) inconvenience is that you need to unscrew it to mount your camera on a tripod.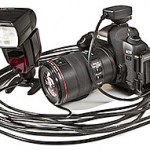 These are the brainchild of Syl Arena. In addition to the 33 ft cord, Syl through his OCFGear.com site also sells 16 ft cords for $48.00, but the 33 ft cord give you more options in my opinion. This cord allows you to take your master flash off your camera and still have it as the master. If you want to do off-camera flash you need a way to trigger that flash. If your Canon camera has a built in flash you can use this but what if it doesn't? Then you either need another 580EX II (or 430EX II) or a more limited ST-E2 controller but at $474 or $224 respectively, the OCF33 at $65 is much more reasonable. Using the OCF33 is a breeze. You simply put one end on the hot shoe of your camera and the speedlite clips into the hotshoe on the other end of the cable. This hotshoe has a threaded socket so you can mount it on a camera stand, umbrella adapter, Justin Clamp, etc. The beauty of this is that you can still use this flash as a master to control other speedlites as slaves and still have all the functionality of setting lighting ratios on the camera without having to go over to each flash and change their settings individually. The cable also allows the master flash to be out of line-of-sight contact with the camera so further extending your shooting options.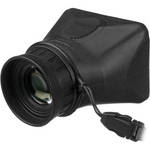 So I'd read about these for some time before spotting one at the Houston Camera Exchange and deciding to buy it. They're a little awkward to carry – I've seen some tie them to their camera strap but so far I just keep mine handy in a pocket on my camera bag. This device consists of a rubber shroud with a magnifying lens that you use to chimp the LCD screen on the back of your camera to see if you got the shot or not. The magnifying lens is adjustable to suit your own eyesight, much like the diopter setting on the viewfinder of your DSLR. With the LCD screens on the back of modern camera's its not really necessary to check the histogram every time and the Hoodman Loupe also gets around the difficulty of trying to view that screen in bright sunlight. You can check for focus, depth of field, photo bombs, etc. before leaving the scene. There are few things more frustrating than getting home, uploading your shots to your computer and finding your 'keeper' shot is soft or that uncle Bert had his eyes closed. With the Hoodman Loupe you can check these on site and reshoot if necessary.
Well, there is is, my ten photo accessories under $100 for this Holiday season. I have no affiliation with any of these product manufactures but I do have an affiliation with B&H and Amazon. I use all these items myself and I'm happy to recommend them.